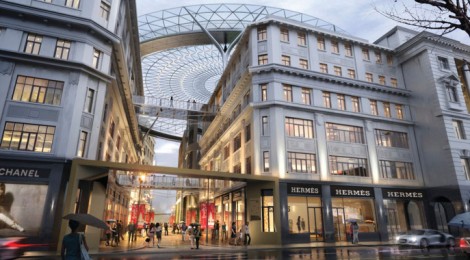 It's not what you buy, but the way that you buy it…
by Tessa O'Neill 
The dynamic retail sector is going through its most significant period of transition in a century. The current global financial crisis is having a major impact on people's spending and shopping habits. However, other significant trends are also shaping how and where we shop with a correspondingly inevitable impact on our cities.
The biggest influence by far on the way people shop is the shift towards e-commerce, m-commerce (sales made via smartphones) and s-commerce (sales made through social media). This is a new and unpredicted phenomenon even 10 years ago. We have seen dramatic changes in retail patterns and habits, over a very short timescale.
It is the experience of going shopping that is driving the retail sector. The customer knows what he or she wants. Value for money is still a factor but, whether they shop on line or in store, customers also want convenience, choice, great service and an
enjoyable experience.
Many city centres and shopping destinations are reinventing themselves and becoming more than just places to shop. Gone are the days of inward looking shopping centres reflecting little of the character and personality of the city. Whilst in certain environments around the world there is still a case for covered malls these too should reflect the nature of their surroundings. New centres are increasing the diversity of their leisure offer with cafes, bars and restaurants, and there is a very tangible advantage when customer dwell time is extended by visiting cinemas, ice-rinks and cultural activities such as museums and
art galleries.
Whilst each is very different in scale and location, new integrated retail centres such as the BDP designed Newbury Parkway, UK and Nanjing Road, Shanghai, China have the same design ethos of creating a total experience in order to compete with other retail destinations and the internet.
An increase in housing and commercial uses will also help to increase dwell time and bring the community back to the city centre. These activities are bringing a quality of experience unique to and reflecting the culture and character of a location.
Good quality public spaces and public realm raise the quality of the whole area and provide an attractive environment to which consumers will want to return. BDP's scheme in the heart of Mayfair and Belgravia has not only transformed this part of London but has also contributed to increased footfall and spend.
Other parts of our cities such as public transport hubs at train stations and airports, traditionally not classed as retail destinations, will respond to the customer's desire for greater convenience due to time and lifestyle pressures. WiFi will become a must have so shoppers can surf the web, use social media and even work while spending time in a centre.
Shops, however, are most vulnerable to the increased use of the internet and they too will play a very different role in the future. Many will operate as little more than showrooms, others as collection centres or customer service hubs. The store of the
future will no longer act as a traditional retail store but as an experience in its own right and also a showcase for coveted global brands. The Nike or Fritz Hansen stores, for example, display and light their products in a way that provides an experience for the consumer that captures the imagination of that retailer's demographic.
Sustainability too is ever more important to the consumer, relative both to the provenance of the goods and also the green credentials of the shop or centre. The BDP designed Waitrose store in Bracknell achieved BREEAM Outstanding and incorporates green roofs and a biomass centre but also innovative ideas such as a bug hotel which has proved a popular attraction in its own right!
Whatever scale of shopping place and wherever in the world, the common thread linking these changes is the quality of experience, in terms of the quality of service and the quality of the space. The city centre has been the focus for our urban communities for centuries and it will continue to be but it will develop as a very different place to the one we know now, much strengthened by current changes in the approach to retailing.