Inaugural SUE Event!
On Thursday 21st November 2013 we launched Sustainable Urban Environments (SUE).  The inaugural SUE event was attended by BDP staff representing the architecture, urbanism, engineering and sustainability professions.
The objective for the event was to answer the question: "What defines a Sustainable Urban Environment?" and establish a manifesto for SUE.  Discussion focused on how we can deliver more economically, environmentally and social sustainable environments.
We have a great turn out for the event and lively discussion ensued!  It was great to hear such wide ranging views and opinions on principles of a SUE.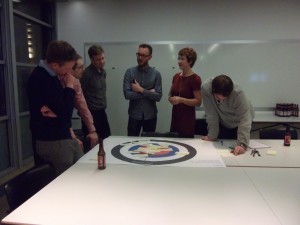 From a broad base of initial concepts and ideas, the group undertook an exercise to prioritise the principles.  The following principles really stood out and provides the first steps in setting a strong, clear manifesto for SUE:
1. Strong governance and community ownership.
2. An attractive external environment.
3. Excellent physical and digital connectivity
4. Availability of good quality, affordable buildings.
5. A lifetime community from birth to death that provides for diverse needs.
6. Focal points of social facilities.
7. Wise use of natural resources and assets.
We will be back with news of future events.  Until then follow us on Twitter and look out for regular posts on SUE: blogs.
A big thank you to Anthony Nickson, Darrell Wilson, David Raynor, Francis Glare, Francis Preece, George Smith, Heather Wells, James Millington, Jane Horner, Jonathan Richards, Lizzie Hopkins, Maciej Olszak, Steve Merridew, Susannah Goddard and Tony Marshall.